Deezze Team Demo
It's time to share our accomplishments!
Yesterday we had a great cross-team demo where all Team Leaders presented results of their teams work for the last few months. That was a perfect coordination and possibility to update each other with the status of our big Deezze Team!
Big compliments to all the reporters for their clear, informative, interesting and well- structured presentations.
We are lucky to have such efficient and inspired team!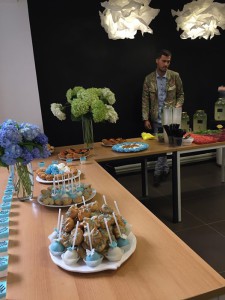 //= do_shortcode('[cta_subscribe title="Subscribe!" text="In need of a developer? Simply fill in the form and SharpMinds will arrange the rest!" width="full" color="light"]')?>
We use cookies on our website to give you the most relevant experience by remembering your preferences and repeat visits. By clicking "Accept All", you consent to the use of ALL the cookies. However, you may visit "Cookie Settings" to provide a controlled consent.
Privacy Overview
On this website we use cookies to improve your experience when you visit our website. Of these, the cookies that are considered necessary are stored in your browser, because they are essential for the functioning of the basic functionalities of the website. We also use third-party cookies that help us analyze and understand how you use this website. These cookies are only stored in your browser with your permission. You can also opt out of these cookies, but opting out of some of these cookies may affect your experience on our website. For more information, please consult our
privacy
and
cookie statement
.
[:en]
| Cookie | Duration | Description |
| --- | --- | --- |
| _ga | 2 years | The _ga cookie, installed by Google Analytics, calculates visitor, session and campaign data and also keeps track of site usage for the site's analytics report. The cookie stores information anonymously and assigns a randomly generated number to recognize unique visitors. |
| _gat_UA-4422527-28 | 1 minute | Een variatie op de _gat-cookie die is ingesteld door Google Analytics en Google Tag Manager om website-eigenaren in staat te stellen het gedrag van bezoekers te volgen en de prestaties van de site te meten. Het patroonelement in de naam bevat het unieke identiteitsnummer van het account of de website waarop het betrekking heeft. |
| _gid | 1 day | Geïnstalleerd door Google Analytics, slaat de _gid-cookie informatie op over hoe bezoekers een website gebruiken, terwijl er ook een analyserapport wordt gemaakt van de prestaties van de website. Sommige van de gegevens die worden verzameld, omvatten het aantal bezoekers, hun bron en de pagina's die ze anoniem bezoeken. |
| catAccCookies | 1 month | This cookie is used to store the acceptance of the cookie policy on the website. |
| cookielawinfo-checkbox-advertisement | 1 year | Set by the GDPR Cookie Consent plugin, this cookie is used to record the user consent for the cookies in the "Advertisement" category . |
| cookielawinfo-checkbox-analytics | 11 months | This cookie is set by GDPR Cookie Consent plugin. The cookie is used to store the user consent for the cookies in the category "Analytics". |
| cookielawinfo-checkbox-functional | 11 months | The cookie is set by GDPR cookie consent to record the user consent for the cookies in the category "Functional". |
| cookielawinfo-checkbox-necessary | 11 months | This cookie is set by GDPR Cookie Consent plugin. The cookies is used to store the user consent for the cookies in the category "Necessary". |
| cookielawinfo-checkbox-others | 11 months | This cookie is set by GDPR Cookie Consent plugin. The cookie is used to store the user consent for the cookies in the category "Other. |
| cookielawinfo-checkbox-performance | 11 months | This cookie is set by GDPR Cookie Consent plugin. The cookie is used to store the user consent for the cookies in the category "Performance". |
| CookieLawInfoConsent | 1 year | Records the default button state of the corresponding category & the status of CCPA. It works only in coordination with the primary cookie. |
| qtrans_front_language | 1 year | This cookie is set by qTranslate WordPress plugin. The cookie is used to manage the preferred language of the visitor. |
| viewed_cookie_policy | 11 months | The cookie is set by the GDPR Cookie Consent plugin and is used to store whether or not user has consented to the use of cookies. It does not store any personal data. |
[:]
[:en]
| Cookie | Duration | Description |
| --- | --- | --- |
| _hjAbsoluteSessionInProgress | 30 minutes | Hotjar sets this cookie to detect the first pageview session of a user. This is a True/False flag set by the cookie. |
| _hjFirstSeen | 30 minutes | Hotjar sets this cookie to identify a new user's first session. It stores a true/false value, indicating whether it was the first time Hotjar saw this user. |
| _hjIncludedInPageviewSample | 2 minutes | Hotjar sets this cookie to know whether a user is included in the data sampling defined by the site's pageview limit. |
| _hjTLDTest | session | To determine the most generic cookie path that has to be used instead of the page hostname, Hotjar sets the _hjTLDTest cookie to store different URL substring alternatives until it fails. |
| _lfa | 2 years | Deze cookie wordt ingesteld door de provider Leadfeeder om het IP-adres te identificeren van apparaten die de website bezoeken, om zo meerdere gebruikersroutering vanaf hetzelfde IP-adres opnieuw te targeten. |
[:]
[:en]
| Cookie | Duration | Description |
| --- | --- | --- |
| _hjSession_1409766 | 30 minutes | No description |
| _hjSessionUser_1409766 | 1 year | No description |
[:]